With recent months bringing a surge in interest in bitcoin (BTC) among individual investors, a rising share of newcomers represent so-called 'weak hands' that might sell their crypto during the first serious price correction, according to a report by market research platform Cardify.
The share of deposits from new users almost tripled between last November and February 2021, and a major share of inexperienced investors want to hold crypto for less than 12 months, said the report.
"With recent news from companies like Tesla investing in bitcoin or PayPal and Square accepting cryptocurrency through their apps, new users are coming into crypto: new investors now account for 41.5% of all deposits, up from 14.8% in November 2020," the February report indicated.
32.2% of inexperienced investors view cryptocurrencies as a way to expand their assets in the short-term. Still, the report found that,
"Despite inexperienced investors citing long-term gains as their primary motivation, 41.9% intend to hold their crypto for fewer than 12 months."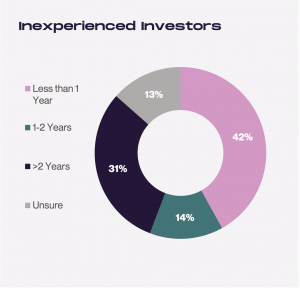 Meanwhile, only 19.9% of experienced investors say the same.
"On the flip side," the report added, "59.0% of experienced investors say they intend to hold crypto for more than 2 years, compared to only 30.7% of inexperienced investors."
That said, deposits to crypto accounts are "soaring," according to Cardify. "January 2021 is 23x higher than deposit volumes in January 2019 and average deposit per month grew from [USD] 432 in January 2019 to [USD] 1,212 in January 2021," they said.
New users are floating to the cryptosphere, changing the composition of deposits and providing a solid injection of funds, but also bringing their lack of experience that could further weigh on the market.
According to figures obtained by Cardify,
"In November 2020, only 14.8% of deposits came from new users. In February 2021 so far, new users account for 41.5% of deposits."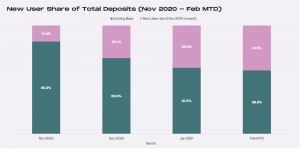 The share of cryptocurrencies in investors' individual portfolios is also on the rise, as the average investor now holds about 13% of their portfolio in cryptocurrency, a major increase from an average of 3.8% in January 2020, the report said.
Meanwhile, despite more people investing, the vast majority of crypto investors said they have little knowledge on how crypto markets work, the report said.
11.3% of experienced investors worry bitcoin will dip below USD 20,000 in 2021, while 20.6% of inexperienced investors said the same, Cardify concluded.
____
Learn more:
18% of Asked Americans Bought Crypto, Most Know Only Bitcoin – Survey
People Tell Cryptoverse to Fix These Things to Reach Bitcoin Mass Adoption
Young Investors Drive Increased Aussie Bitcoin & Crypto Investments
Investors Still Prefer Stocks To Bitcoin, But BTC Wins Over Gold – Survey
Canada's Bitcoin ETFs Losing Momentum, But Not Investors' Interest
Originally Posted on: https://cryptonews.com/news/50-of-inexperienced-investors-to-hold-bitcoin-less-than-a-ye-9449.htm
By: Jaroslaw Adamowski