Market Recap
Wall Street saw further de-risking overnight (DJIA -1.14%; S&P 500 -1.47%; Nasdaq -1.57%) amid the absence of bullish catalysts, while elevated Treasury yields, higher oil prices and a gridlock in the US government funding bill serve as prevailing risks for markets to digest. The VIX has touched its highest level close since May 2023 as a reflection of risk-off sentiments, largely on track with its seasonal patterns to form a potential peak in early-October. Aside, the US dollar also continued on its ascent (+0.2%), with slightly hawkish Fedspeak backing the high-for-longer rate guidance.
On the data front, downside surprises in US new home sales and US consumer confidence pointed towards moderating growth conditions as a trade-off to tighter policies, although one may still argue that recessionary evidence still awaits to be seen. Current level of US new home sales are still in line with pre-Covid levels, while US consumer confidence has yet to reflect the sharp declining trend that generally precedes a recession.
For the Nasdaq 100 index, a break below an ascending channel pattern to a new three-month low continues to leave sellers in control, after failing to defend the Ichimoku cloud support on the daily chart and its 100-day moving average (MA) last week. The next line of support may stand at the 14,200 level, which may mark a crucial level to defend, considering that its weekly Relative Strength Index (RSI) is edging back to retest the 50 level for the first time since March this year. That may provide a key test for buyers in maintaining the broader upward trend ahead.
Asia Open
Asian stocks look set for another downbeat session, with Nikkei -1.13%, ASX -0.42% and KOSPI -0.50% at the time of writing. The Hang Seng Index has registered a new nine-month low in yesterday's session, as increasing risks of a potential liquidation of China Evergrande kept investors shunning. On the data front, China's August industrial profits registered a softer decline but gains may be more lukewarm as the data still revealed a year-on-year decline while property sector risks linger.
Aside, Australia's Consumer Price Index (CPI) data this morning came in line with expectations at 5.2%. The absence of an upside surprise left rate expectations well-anchored for further rate hold from the Reserve Bank of Australia's (RBA) next week, but there are still some indecision over the need for additional rate hike early next year. This is considering that the inflation data still revealed some persistence with an uptick in pricing pressures from previous 4.9% and further lack of progress on the inflation front over the coming months could justify more hawkish bets into play.
The AUD/USD has been forced into a ranging pattern over the past month, with intermittent bounces failing to break above the 0.650 level of resistance. Sellers seem to remain in control for now, with the RSI on its daily chart struggling to cross above the 50 level, while a potential bearish crossover are displayed on its Moving Average Convergence/Divergence (MACD). Lingering risks to China's growth and the downbeat risk environment served as immediate headwinds to keep the bulls at bay. Any breakout of the range may be on watch, with the lower consolidation range at the 0.636 level and the upper resistance range at the 0.650 level.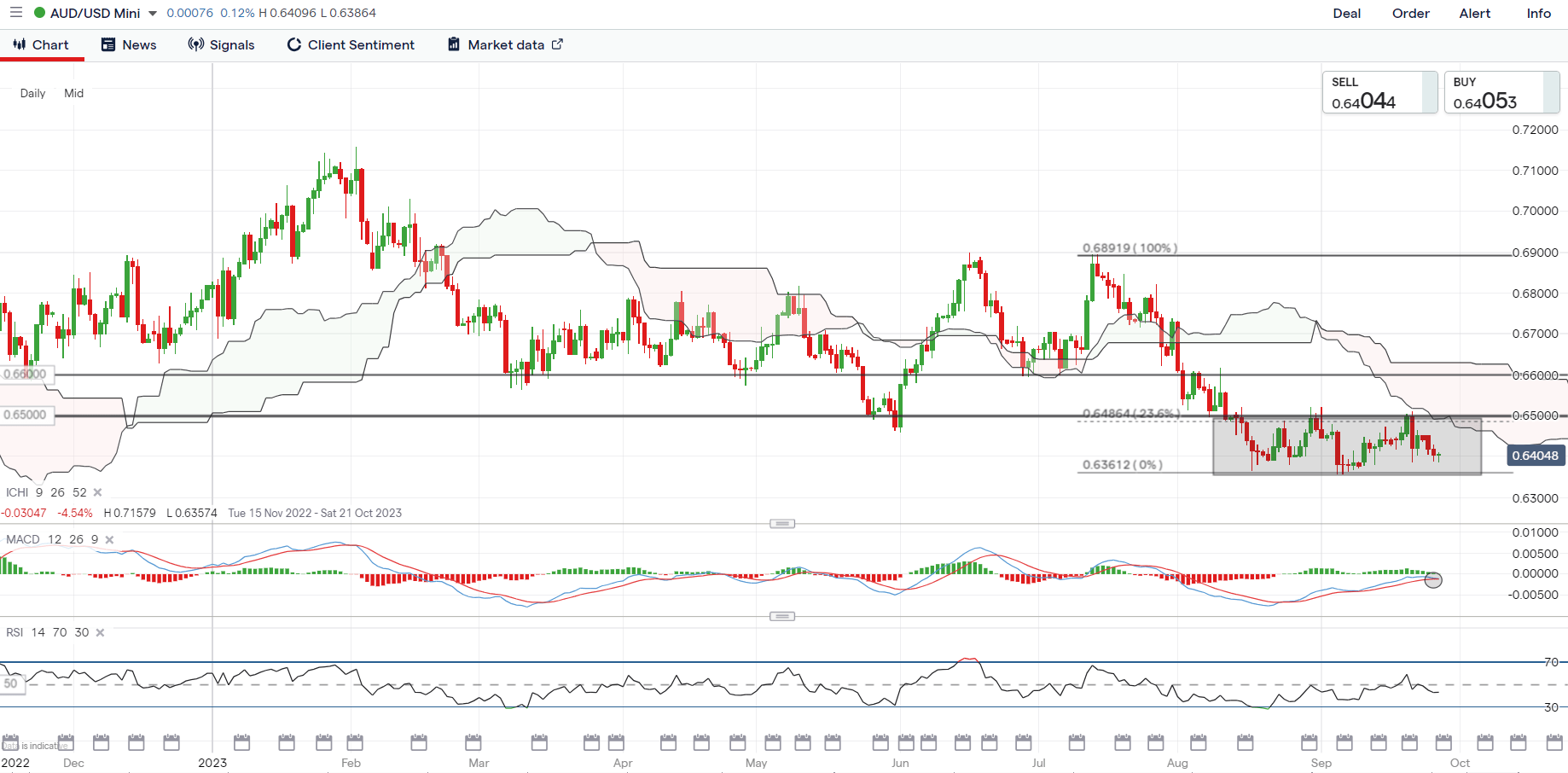 Source: IG charts
On the watchlist: Silver prices back to retest key upward trendline support
Recent attempt for silver prices to bounce off an upward trendline support came short-lived, as higher bond yields and a stronger US dollar limit any positive follow-through from buyers this week. Two straight days of losses this week have unwound all of past week's gains, with prices seemingly eyeing for a retest of the upward trendline support around the US$22.60 level once more.
Thus far, its daily RSI has struggled to cross above the key 50 level. Greater conviction for sellers may come from a breakdown of the US$22.20 level, where a horizontal support stands. Failure for the level to hold may pave the way to retest the US$20.60 level next. On the upside, the recent top at the US$23.75 level has proved to be an immediate resistance to overcome.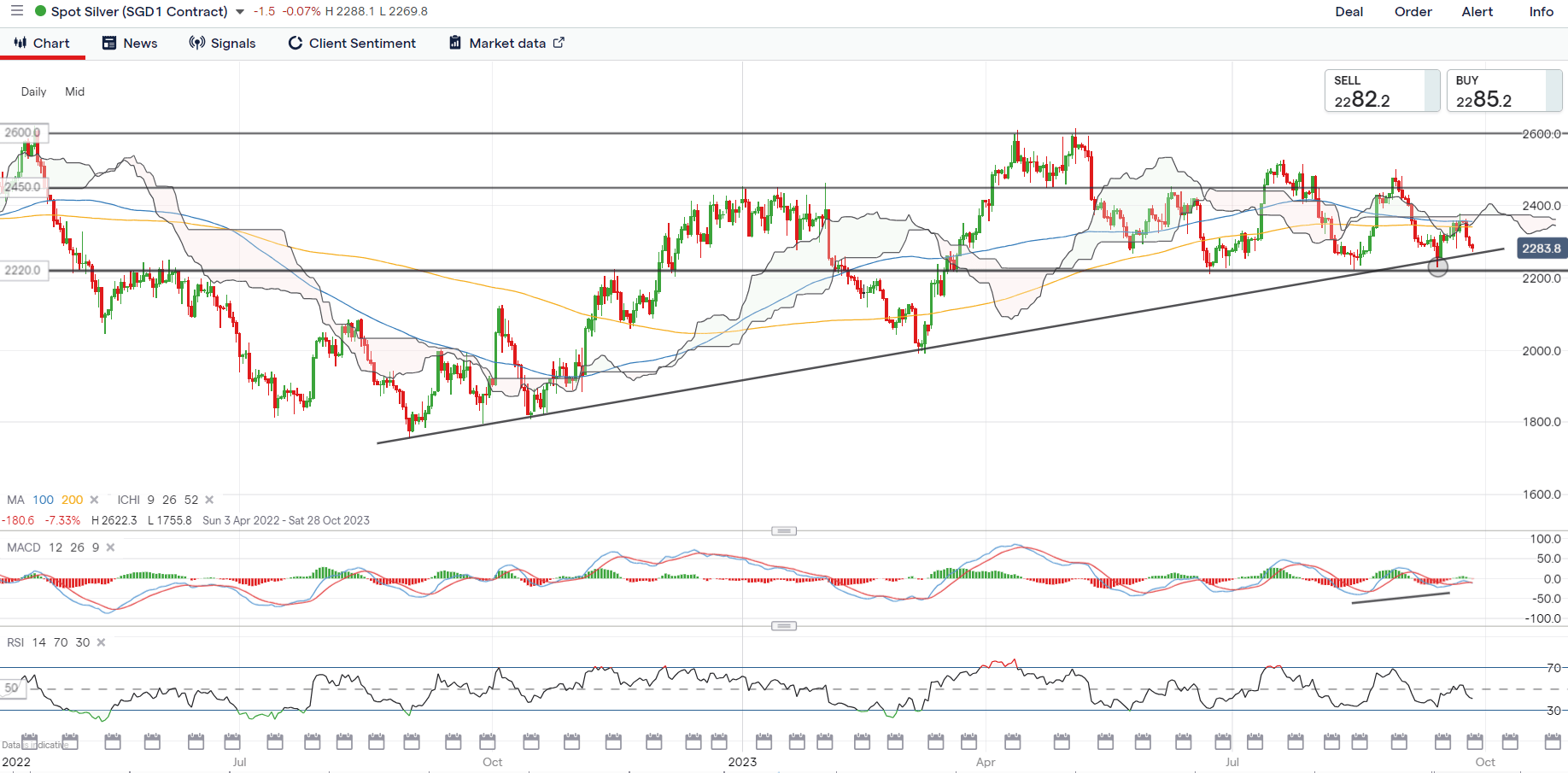 Source: IG charts
Tuesday: DJIA -1.14%; S&P 500 -1.47%; Nasdaq -1.57%, DAX -0.97%, FTSE +0.02%
Article written by IG Strategist Jun Rong Yeap
element inside the element. This is probably not what you meant to do!
Load your application's JavaScript bundle inside the element instead.

Originally Posted on: https://www.dailyfx.com/news/asia-day-ahead-aud-usd-stuck-in-range-silver-eyeing-retest-of-trendline-support-20230927.html
By: IG