The so-called Grayscale effect might be waning, as both bitcoin (BTC) and ethereum (ETH) are rallying while these two most popular cryptoassets are leaking from Grayscale's trusts.
In the past 7 days, BTC 211 (USD 11.4m) and ETH 781 (USD 1.4m) left the Grayscale Bitcoin Trust (GBTC) and Grayscale Ethereum Trust (GETH), respectively. In the same period of time, the price of BTC jumped by almost 9%, while ETH rallied by 16%. Outflows of BTC 100 were seen several times in the second half of the past year.
Just two months ago, strategists at the major investment bank JPMorgan said that Grayscale trusts could be a determining factor in whether the cryptos' prices go up or down, as losses could be fuelled by the "trend-following investors" leaving the space.
In comparison, the highest recorded inflow in a single day was BTC 16,240 on January 18, and the highest outflows BTC 134.17 on December 28 last year and January 4 this year.
Meanwhile, ETH inflows surpassed BTC's after the GETH reopened in February. Since then, nearly ETH 245,410 entered it, today worth around USD 448m. In the same period, BTC 7,404.13 entered the GBTC, currently worth nearly 400m.
However, Grayscale BTC holdings are much larger, standing at BTC 655,430 (USD 34bn), while it has ETH 3.17m (USD 5.7bn).
Meanwhile, inflows into litecoin (LTC), bitcoin cash (BCH), and ethereum classic (ETC) have increased in the past week. In the market, LTC price is up by 13% in a week, BCH – 7.5%, while ETC increased by 9%.
Grayscale Investments Holdings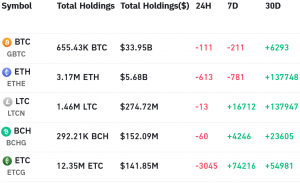 As reported, Grayscale recently confirmed that they're looking into at least 23 different digital assets "for potential new product offerings."
While other trusts, such as Bitwise, BlockFi, Osprey Bitcoin Trust, and Canadian Bitcoin exchange-traded funds (ETFs) are emerging, the Grayscale trusts have so far been a dominant way for institutional investors to enter the cryptoverse.
The trusts are structured to hold the underlying crypto, while the value of each share is dependent on the amount of crypto under management. They also provide a familiar structure for accounting and taxation. However, there is no way to redeem the underlying crypto.
"The lack of redemption options plus high institutional demand has created an interesting side effect: crypto trusts are becoming large supply sinks that lock up cryptoassets and effectively take them out of circulation, reducing the overall liquid supply," crypto intelligence firm Coin Metrics noted recently.
BTC's free float supply is about 14.55m and the GBTC alone effectively removes an additional BTC 650,000 from circulating supply, per the firm's data.
At the time of writing (11:49 UTC), BTC trades at USD 54,182 and is up 8% in a day, while ETH jumped by 6%, to USD 1,825.
____
Learn more:
– Grayscale Eyes Altcoins Amid Increasing Competition For Bitcoin Investments
– Grayscale Scores Another Record, Buys 194% More Bitcoin Than Miners Generated
– Norwegian Giant Aker Goes Bitcoin, Defends BTC Mining, Eyes Micropayments
– Meitu CEO Hints More Asian Firms May Buy Bitcoin, Ethereum, As Shares Rally
– Three Developments For Bitcoin According to Citi
– This Is Why Old Models Don't Work With Bitcoin According to Raoul Pal
Originally Posted on: https://cryptonews.com/news/bitcoin-ethereum-rally-despite-outflows-from-grayscale-s-tru-9477.htm
By: Sead Fadilpašić