Bitcoin price extended its decline below the USD 50,000 support level. BTC even declined below the USD 47,500 support level and tested USD 45,000. However, the price rebounded sharply, jumping to almost USD 49,000 (12:58 PM UTC) and trimming its daily losses to 8%.
Similarly, there was a strong drop in most major altcoins, followed by a rebound. ETH is still down almost 14% as it even spiked below the USD 1,400 support before moving above USD 1,500 again. XRP/USD also started a strong decline and it tumbled almost 20%.
Total market capitalization
Bitcoin price
After a close below USD 50,000, bitcoin price gained bearish momentum. BTC declined below the USD 47,500 and USD 46,200 support levels. It even spiked below the USD 45,000 support level. The USD 45,000 support holds the key in the short-term. On the upside, BTC moved above the USD 48,500 resistance level. The key hurdle is now forming near the USD 50,000 level. A close above USD 50,000 may possibly start a strong recovery in the coming sessions.
Ethereum price
Ethereum price broke many important supports such as USD 1,650, USD 1,550 and USD 1,500. ETH even spiked below USD 1,400. It is currently moving higher, getting closer to its first major resistance near the USD 1,550 level.
If there is a close below the USD 1,400 support, there is a risk of a drop towards the USD 1,320 and USD 1,280 support levels in the near term.
BNB, ADA, litecoin, and XRP price
Binance Coin (BNB) broke the USD 250 support and it even tumbled below USD 200. BNB tested the USD 185 support and it is back above USD 200. The price is now consolidating and it might recover towards the USD 220 resistance level. The next key resistance sits near the USD 232 level.
Litecoin (LTC) declined heavily below the USD 200 support level. LTC even spiked below the USD 175 support level and tested the USD 160 zone. It is recovering, but the previous support at USD 185 might act as a resistance. The main resistance for a fresh increase is now forming near the USD 200 level.
XRP price started following bitcoin's decline after it failed to stay above the USD 0.525 and USD 0.512 support levels. There was a strong decline below USD 0.500 and the price even broke the USD 0.450. It tested the USD 0.400 support level and it is recovering higher towards the USD 0.480 resistance level.
Other altcoins market today
Many altcoins declined over 20%, including CRO, DODO, IOST, GRT, XVS, DGB, 1INCH, BTT, ZEN, QTUM, OKB, ONT, ETC, OMG, CAKE, LRC, and EOS. Conversely, CEL and LEO gained over 25%.
To sum up, bitcoin price started a significant correction below USD 50,000. If the ongoing rebound is not sustainable, BTC might even drop below USD 45,000, but downsides could be limited below USD 42,000.
_____
Find the best price to buy/sell cryptocurrency: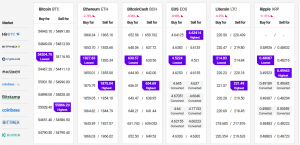 Originally Posted on: https://cryptonews.com/news/bitcoin-rebounds-from-usd-45k-ethereum-and-altcoins-pair-los-9318.htm
By: Aayush Jindal