The most popular cryptocurrency, bitcoin (BTC) is rallying above the USD 50,000 level again after leaving this zone less than a week ago and dropping below USD 44,000 on Sunday. (Updated at 10:11 UTC: updates throughout the entire text.)
At the time of writing (09:42 UTC), BTC trades at USD 51,154 and is up by 4% in a day and 5% in a week. From the top 10 coins by market capitalization, BTC is outperformed only by polkadot (DOT) and litecoin (LTC). Ethereum (ETH) is up by 2%.
BTC price chart: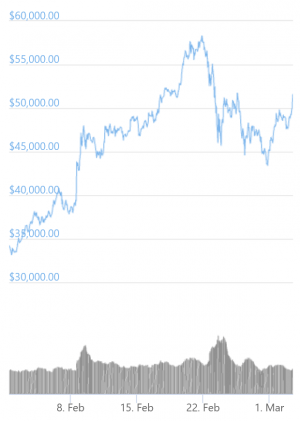 As reported, Gary Gensler, nominee for chairman of the US Securities and Exchange Commission, said yesterday that making sure crypto markets are free of fraud and manipulation is a challenge for the agency. However, he also stressed that blockchain is a catalyst for change and that BTC and other cryptoassets have brought new thinking to payments and financial inclusion. Gensler promised he would "work with fellow commissioners to both promote the new innovation, but also at the core to ensure investor protection."
"While the Bitcoin market reacted quickly to his comments, Gensler was largely positive about Bitcoin and cryptocurrencies. I'm hopeful the new administration will help foster innovation in blockchains, cryptocurrencies and digital assets, instead of stifling it," John Wu, president of blockchain technology firm Ava Labs, told Bloomberg.
Meanwhile, US-headquartered international banking giant Citi said earlier this week that "bitcoin's borderless design and other features may position it to become an international trade currency in the future."
"Citi Group's declaration of support for Bitcoin is part of a wider theme of institutional interest that heralds a tipping point for the widespread adoption of crypto assets. 2019 and 2020 saw institutional participation shift from early adopters and pioneer firms building capabilities in anticipation of the market's development," Seamus Donoghue, VP Sales and Business Development at METACO, a provider of security-critical digital asset infrastructure for financial institutions, said in an emailed comment.
According to him, now that crypto is a trillion-dollar asset class financial institutions are finding themselves in the difficult position of a broadening demand push from their clients to support this asset class and those that did not foresee this are scrambling for a solution.
Last week, JPMorgan Chace & Co. strategists said that in a multi-asset portfolio, investors can likely add up to 1% of their allocation to cryptocurrencies in order to achieve any efficiency gain in the overall risk-adjusted returns of the portfolio.
Meanwhile, Jurrien Timmer, Director of Global Macro at Fidelity Global Asset Allocation, said in his recent paper that "some investors may wish to consider bitcoin, alongside other alternatives, as one component of the bond side of a 60/40 stock/bond portfolio."
"The fundamentals of institutional investments into Bitcoin will not have changed in recent days, and if anything the stagnation in prices has been driven by lower volumes with some profit-taking. Much of the institutional money will be following a buy and hold strategy rather than trading volatility and will thus shrug off the short-term softening of prices," Martin Worner, Chief Operating Officer and VP of Product at Confio, a developer of tools for multi-blockchain applications, said.
Also, as reported, the Chicago Board Options Exchange filed an application to list a BTC exchange-traded fund from the New York-based investment management firm VanEck and its Bitcoin Trust and the SEC is now "on the clock" – with the crypto world eagerly awaiting its response.
"A Bitcoin ETF listing in the US is likely to be the next major signal of progress in adoption. As we have seen with the recent new ETF listings in Canada, in a matter of days they have set records for [assets under managent] inflows for new fund listings–an ETF listing in the US would be transformative and would enable anybody with a brokerage account to access Bitcoin," Donoghue added.
____
Learn more:
– Bitcoin Rally Might Be Back To 'Normal' by April or 'Sooner' – Pantera's CIO
– 1 Million First-time Buyers Bought Bitcoin on Dorsey's Cash App Last Month
– 1,400+ Firms Flock To Learn About Bitcoin, But 'There Is No Playbook'
– Microsoft CEO Claims No Plan To Follow In Tesla's Bitcoin-buying Footsteps
– A Wave of Giants Rushing to Invest in Bitcoin Could Derail the Stock Market
– Bitcoin Snowball Is Expected To Hit More Institutions in 2021
– Listed German Cannabis Firm to Buy Bitcoin, Slates Euro and USD
– ETH 'Insanely Cheap,' DeFi To Rally, BTC Dominance to Drop – Pantera Capital CIO
Originally Posted on: https://cryptonews.com/news/bitcoin-returns-above-usd-50-000-in-less-than-a-week-9409.htm
By: Linas Kmieliauskas