The text below is an advertorial article that was not written by Cryptonews.com journalists.
Cryptocurrencies made a strong bounce back as the yield of the benchmark 10-year Treasury bond fell below 1.5% to 1.429% after a week's surge. On Monday, Bitcoin rose to $49,000 and briefly touched $50,000 while ETH gained over 15%.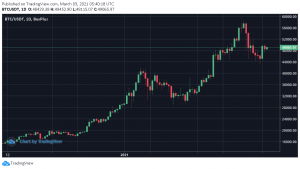 Although Bitcoin is trading at 16% lower than its ATH, many assume that Bitcoin is resuming its bull trend. Bitcoin has gained 1200% since its 2018 low. But the high volatility of Bitcoin is what deters investors from using it as a store-of-value. With more institutional investors stepping into the game, it is believed that certain levels of stability will be brought into the market.
In a new report of Citi, Bitcoin is said to be on the path to become "the currency of choice for international trade." Meanwhile, Goldman Sachs is the next to embrace cryptocurrency. A cryptocurrency trading desk is scheduled to be set up later this month and will provide clients with Bitcoin futures trading service. Clients can also trade non-deliverable forwards through this trading desk.
Following Tesla, Dan Loeb, CEO of New York-based asset management firm Third Point shows interest in investing in Bitcoin and would like to bridge the gap between traditional finance and cryptocurrency.
Bigger Volatility Ahead?
While Bitcoin flipping $45,000 into a support could offer some confidence to traders, $52,000 still poses a hard resistance to crack. March is usually the worst performing month in Bitcoin's history and the tax season may drive miners to liquidate their coins to cover costs.
Various indicators suggest that hodlers are keener on hodling despite Bitcoin debased 20% in the past week. According to Finance Magnates, the supply of Bitcoin on leading exchanges is at its lowest in three years. On Saturday, Whale Alert recorded two transactions moving 4,509 BTC in total from Coinbase to unknown cold wallets. JP Morgan strategist Nikolaos Panigirtzoglou pointed out that Bitcoin could be facing a liquidity crisis.
"Bitcoin has roughly tripled in the past three months but its liquidity has deteriorated. Market liquidity is currently much lower for Bitcoin than in gold or the S&P 500, which implies that even small flows can have a large price impact," explained Panigirtzoglou.
Hedge Risks and Earn Profits With Bexplus
Bexplus, a leading cryptocurrency leverage trading platform, offers 100x leverage on various crypto pairs. Traders can earn profits from speculating the ups and downs of prices. Bexplus offers such tools as a trading simulator, stop-loss, mobile apps, profit calculator to traders to reduce risks. Traders can gain a 100% deposit for each deposit to enhance profitability. If you want to continue to hodl your BTC and ride the bull trend, the Bexplus wallet helps you earn passive income of up to 21% annualized interest rate.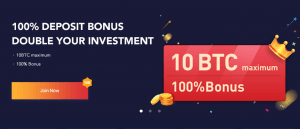 Bexplus – Recommended Leverage Trading Platform
No KYC requirement, registration with E-mail verification within a few minutes
Demo account with 10 BTC for traders to get familiar with leverage trading
100% bonus for every deposit
Intuitive and full-featured App on Apple App Store and Google Play
Affiliate program with up to 50% commission reward
24/7 customer support
Originally Posted on: https://cryptonews.com/news/bitcoin-stablizes-with-insitutional-support-but-volatility-c-9434.htm
By: Sponsored