Cardano (ADA) Founder Charles Hoskinson has doubled down on his criticisms of Ethereum (ETH), claiming that the latter's network effects mean "nothing" in the long-term.
Hoskinson spent much of his recent livestream discussing Cardano's recent progress and his hopes for the future. However, he also devoted a portion of the Q&A to addressing whether Ethereum's apparent first-mover advantage and network effects would ultimately give it the edge over Cardano.
"I laugh when people say, 'How will you catch up with Ethereum's network effect?'," he said. "It doesn't exist."
The Ethereum community was quick to react:
Don't worry guys once smart contracts come to Cardano it'll easily overtake Ethereum because it has no network effe… https://t.co/GFVSytozan
Meanwhile, the most recent report by a reputable third-party — Electric Capital's 2020 Developer Report — concluded that Ethereum had 2,325 active developers as of October 31, 2020.
By contrast, the report puts Cardano's active developer count at around 150.
Electric Capital also found that Ethereum enjoyed the fastest growth in active developer numbers across 2020.
In either case, Hoskinson concluded his monologue with the following piece of bluster:
"It costs 50 bucks to do anything [on Ethereum], even send a transaction. And I have to compete with that? That's like a karate match where the other person is 96 years old and is in a wheelchair."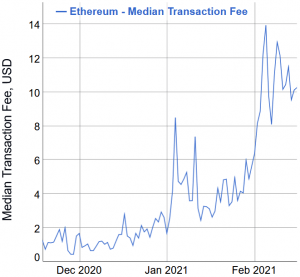 In either case, ADA, ranked 5th by market capitalization, is indeed outperforming the second-largest cryptoasset, ETH.
Not only has it risen by almost 1,300% in the past 12 months (compared to 590% for ETH), but it has surged just over 100% in the past 14 days (19% for ETH) and 24% in the past seven (2% for ETH).
That said, it has retreated by around 1.5% in the past 24 hours, reaching USD 0.875 (11:44 UTC) amid bitcoin's rally above USD 51,000. Meanwhile, ETH has gained 1%, reaching USD 1,808.
ADA price chart: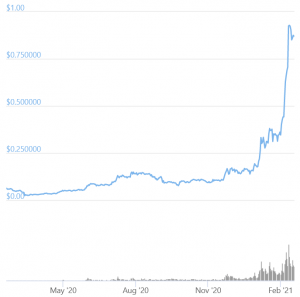 ____
Learn more:
Crazy Bitcoin and Ethereum Fees Dampen Rally, Help Competitors
Cardano and Binance Founders Take Aim At Ethereum as ADA & BNB Rally
Analysts Deconstruct Bitcoin vs. Ethereum Debate As Alts Outperform
ETH 'Insanely Cheap,' DeFi To Rally, BTC Dominance to Drop – Pantera Capital CIO
https://platform.twitter.com/widgets.js

Originally Posted on: https://cryptonews.com/news/cardano-s-hoskinson-keeps-bashing-ethereum-as-ada-outperform-9257.htm
By: Simon Chandler