Today, US-based major crypto exchange Coinbase filed to go public via USD 1b direct listing on the Nasdaq Global Select Market under the symbol COIN this year.
In the filing with the US Securities and Exchange Commission, the company said it had 43m verified users last year and 2.8m monthly transacting users. Also, they claim that they work with 7,000 institutions and 115,000 ecosystem partners in over 100 countries.
As of December 31, the company said it had USD 90bn worth of assets on the platform and registered USD 456bn lifetime trading volume.
Coinbase said that, since inception through December 31, 2020, they generated over USD 3.4bn in total revenue, largely from transaction fees. For the year ended December 31, 2020, transaction revenue represented over 96% of their net revenue.
"You can expect volatility in our financials, given the price cycles of the cryptocurrency industry. This doesn't faze us, because we've always taken a long-term perspective on crypto adoption. We may earn a profit when revenues are high, and we may lose money when revenues are low, but our goal is to roughly operate the company at break-even, smoothed out over time, for the time being. We are looking for long-term investors who believe in your mission and will hold through price cycles," CEO and Founder Brian Armstrong said in the prospectus.
Per the company, now they directly integrate with over 15 blockchain protocols, support over 90 crypto assets for trading or custody, and offer a suite of subscription products and services "that have enhanced the customer value proposition and power of our platform."
"Retail users are now engaging with multiple products — across the four quarters ended December 31, 2020, on average, 21% of retail users who invested also engaged with at least one non-investing product per quarter," they said.
The company aims to grow more stable revenue from subscription products and services, and expects that they will contribute a larger portion of their total revenue. Coinbase said they experienced 126% annual growth in revenue from these products and services from 2019 to 2020.
Consolidated statement of operations data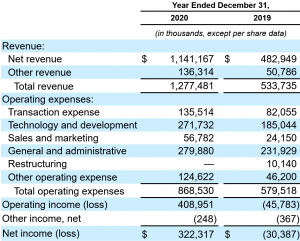 (This article is being constantly updated.)
Originally Posted on: https://cryptonews.com/news/coinbase-announces-usd-1b-direct-listing-9346.htm
By: Linas Kmieliauskas