Bitcoin (BTC) and ethereum (ETH) transaction fees have spiked by 89% and 260% in the past month, as growing demand for BTC and ETH has overburdened both blockchains with unprecedented traffic. Moreover, Ethereum's issues are seemingly boosting its competitors.
Bitcoin's median transaction fee currently sits at USD 13.75, having risen by 4,674% compared to a year ago, when fees were only USD 0.288. Ethereum's median fee is currently USD 12.94, a figure which has risen by 22,443% compared to this time last year.
While bitcoin's status as a store of value means it suffers fewer repercussions from higher fees, Ethereum's issues may be boosting rival chains and platforms, such as Cardano (AND) and Binance Smart Chain. As reported, Tron (TRX) is also enjoying this situation.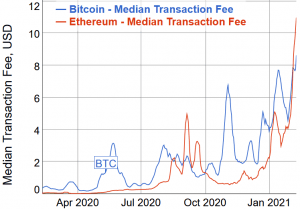 The wrong kind of all-time highs
Ethereum transaction fees have hit all-time highs in recent days and it comes with numerous downsides.
First, they're apparently putting off DeFi users, who Coin Metrics said "do not want to pay excessive fees" in order to trade on decentralized exchanges, lock funds into DeFi platforms, or transfer non-fungible tokens.
The higher fees are also pricing out smaller holders, with Ethereum's median transfer value rising to an average of about USD 312. This may indicate some people are being discouraged from transferring smaller amounts, or it may simply indicate the rising price of ETH.
However, Coin Metrics noted that Etherum usage has remained high overall despite the fees, with active addresses average around 600,000 per day since January.
As for BTC, even though its fees have risen to a three-year high, they haven't broken all-time records (set in December 2017). And with bitcoin's price (and ethereum's) continuing to rise, there isn't sign of significant dampening of demand, yet.
Also, if nothing else, the spike in transaction fees has provided yet more confirmation — if any were needed — that bitcoin is more a store of value than a medium of exchange at this stage.
Just as BTC isn't peer-to-peer cash so much as it is digital gold, ETH is not a world computer, so much as it is a… https://t.co/2uCXDOrZ1m
Costing upwards of USD 13, high transaction fees mean that you'd need to be desperate to use bitcoin to make small purchases.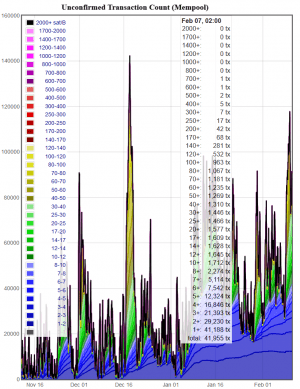 Happy competitors
While higher fees are leading to longer confirmation times for BTC, they appear to be having a number of more serious knock-on effects for Ethereum.
The past few weeks have seen 'Ethereum killer' Cardano rise up the cryptoasset rankings, jumping in price by over 90% alone over the past seven days to become the fourth biggest crypto by market capitalization. Cardano uses a fee structure based around the price of ADA, which is currently low enough (USD 0.81) to keep fees comparatively much lower than Ethereum's.
At the same time, platforms that use alternative blockchains to Ethereum have risen in popularity. This is the case with PancakeSwap, a decentralized exchange which, being on Binance Smart Chain, isn't currently plagued with higher fees like the Ethereum-based SushiSwap.
As Binance CEO Changpeng Zhao was only too happy to point out on Twitter, today saw PancakeSwap overtaking SushiSwap in terms of 24-hour volume.
"Congrats on flipping Sushi. Low fees work," he said.
Top 5 decentralized exchanges by trading volume today: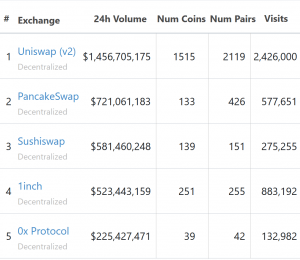 It's not clear how long this situation might last though. With Ethereum 2.0 promising to lower gas fees, more centralized rivals will eventually have to do more than just be less busy if they want a bigger piece of Ethereum's pie.
At the time of writing (15:35 UTC), BTC trades at USD 44,351 and is down by 5% in a day, trimming its weekly gains to less than 26%. ETH dropped by 3%, to USD 1,696. It's up by 12% in a week.
____
Learn more:
Cardano and Binance Founders Take Aim At Ethereum as ADA & BNB Rally
Bitcoin Transaction Fee Estimators: What Are They and How Do You Use Them
Ethereum Fans Brag About All-Time High Fees As L2 Solution Coming
EIP-1559 Won't Lower High Ethereum Fees On Its Own – Professor
Active Addresses Number of Tether's Tron Version Eclipsed Ethereum Version
https://platform.twitter.com/widgets.js

Originally Posted on: https://cryptonews.com/news/crazy-bitcoin-and-ethereum-fees-dampen-rally-help-competitor-9188.htm
By: Simon Chandler