Strategic crypto investments are expected to have a limited near-term effect on the credit profiles of companies such as PayPal, Visa, Square, and Mastercard, taking into account the modest capital deployed and the long ramp time, major credit rating agency firm Fitch Ratings said. Moreover, adding crypto capacities opens up incremental revenue streams for these companies, even if the return on investment over time and compliance risks remain uncertain, they added.
Of the four companies, only PayPal is publicly rated, and its BBB+/Stable rating takes the company's plans to expand its crypto capabilities.
"The company plans to launch pay with crypto functionality at its 29 million merchants starting in the US in late 1Q21 and then expand internationally. This represents one of the first real-world, non-trading related use cases at scale for crypto in the US, but consumer usage will ultimately dictate its success," Fitch said in their recent analysis.
Last October, PayPal launched its cryptocurrency investing service, enabling US users to buy and sell crypto directly within their PayPal digital wallets. Also, as reported last week, PayPal will "probably" not be following Tesla's lead in bitcoin (BTC) buying just yet – but it will spare no effort in allowing its customers to fill their boots with crypto-related offerings.
Meanwhile, Square added the ability to trade bitcoin on its Cash App in 2017 and is on pace to realize more than USD 100m of annualized gross profit from bitcoin trading.
"This is less than 5% of Square's overall gross profit and is buoyed by bitcoin's dramatically increased valuation in recent months, but it provides an avenue for incremental profitability as Square continues to build out functionalities of its Cash App ecosystem," the firm said.
Fitch Ratings already appreciated the move's potential in its 2021 outlook for North American and European fintechs, in which the agency stated that most "Fitch-rated FinTech issuers have Stable Outlooks, although some are better positioned for their respective ratings, including those with high e-commerce exposure, such as PayPal".
Fitch Ratings recognizes that other financial services companies, such as Visa, Mastercard, and Square, are also ramping up their engagement in digital currencies.
"Improved settlement speeds, typically one to three days for various types of financial transactions through the legacy US financial system, is one area blockchain may help improve over time," said Fitch Ratings. "Other potential crypto benefits include lower fees, elimination of intermediaries to enable 24×7 money movement, enhanced security, and anonymity."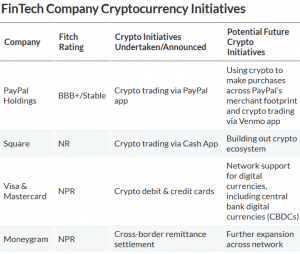 But as major fintechs continue to expand their cryptocurrency and blockchain capacities, several factors could limit widespread their acceptance in the near term, the company said.
The looming significant unknowns include the lack of US regulatory oversight and the uncertain future shape of crypto regulation, two of the factors that could severely impact the above-mentioned benefits, according to the analysis.
"Cryptos are not currently regulated by the US government but regulation is anticipated. Tighter regulation could limit certain benefits described previously, particularly if digital currency issuers are required to obtain banking charters, maintain reserves and/or other strict banking-like requirements," the rating agency said.
At the time of writing (12:25 PM UTC), BTC trades at USD 47,590 and is down by 3.5% in a day after it reached its new all-time high of USD 49,532 yesterday. The price is up by 23% in a week and 29% in a month.
___
Learn more:
– PwC Chief: Mexican Companies Want to Follow Tesla into Bitcoin Investment
– Germany's Biggest Bank Talked the Talk, Now it Walks the Crypto Walk
– A Wave of Giants Rushing to Invest in Bitcoin Could Derail the Stock Market
– 1,400+ Firms Flock To Learn About Bitcoin, But 'There Is No Playbook'
– Can't Beat Crypto Regulators? Educate Them
Originally Posted on: https://cryptonews.com/news/crypto-opens-up-paypal-square-visa-to-new-revenue-streams-fi-9232.htm
By: Jarosław Adamowski