The founder of one of the most popular carding marketplaces, Joker's Stash, has retired having amassed a fortune of over USD 1bn, according to blockchain analytics firm Elliptic.
Per cybersecurity firm Gemini Advisory, JokerStash claims to keep all proceeds of the marketplace in bitcoin (BTC). Elliptic estimates that, considering BTC alone (the site also accepted litecoin (LTC) and dash (DASH)) they would have taken a total of at least BTC 60,000 (USD 2.88bn).
The revenues earned by Joker's Stash can be estimated from the value of incoming cryptocurrency payments to its wallet, as seen on the blockchain, per Tom Robinson, Elliptic's Co-founder and Chief Scientist.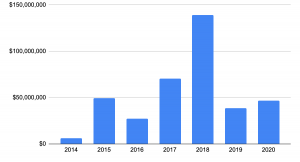 "Sales dropped over the next two years, reflecting a broader downtrend in carding activity – increased security around card payments has made their theft more difficult, while advances in anti-fraud technology have made it more challenging for carders to make purchases with stolen cards," Robinson said.
Moreover, according to him, JokerStash notified customers in October that he/she had been hospitalized for over a week with coronavirus, while in December Interpol and the FBI announced a coordinated seizure of domains used by the site.
Elliptic estimates JokerStash's retirement fund by considering the fees charged by the marketplace:
"The first source of revenue is cryptocurrency deposit fees. Any cryptocurrency payments to the site are converted to a US dollar balance, calculated according to the prevailing exchange rate, minus a fee ranging from 8% in the early days of the site to 4% today."
"On top of that, the marketplace almost certainly takes a cut of all sales of cards provided by the site's partners. The commission taken by Joker's Stash is not known, but for similar marketplaces it ranges between 10 to 30%."
Joker's Stash announced that it would cease operations on 15th February, although the site became inaccessible as of the 3rd February, Robinson said, estimating that others will take their place "at the heart of the cybercrime economy."
Meanwhile, when Joker's Stash announced its closure on January 15, they said that they will never open again.
"We are also want to wish all young and mature ones cyber-gansters no to lose themselves in the pursuit of easy money. Remember, that even all the money in the world will never make you happy and that all the most truly valuable things in this life are free," they preached after amassing a fortune by stealing.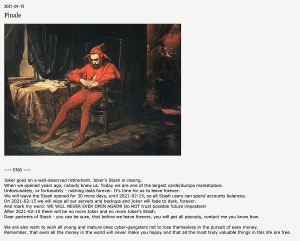 As reported, another blockchain analysis company, Chainalysis, said recently that the criminal share of all cryptocurrency activity fell from 2.1% (USD 21.4bn) in 2019 to 0.34%, or USD 10bn in transaction volume in 2020.)
____
What is carding?
"Every time you make a purchase with a credit or debit card, your card details are transmitted and stored in computer systems. Many of the major hacks of retailers and other companies are motivated by getting hold of these card credentials.
Stolen cards have value because they can be used to purchase high-value items or gift cards, which can then be resold for cash. This process is known as "carding", and has become a key part of the cybercriminal's playbook. Carding is very profitable in its own right, but it is also used to help launder and cash-out cryptocurrency obtained through other types of cybercrime."
Source: Elliptic
____
Learn more:
Group of Men, One Company Indicted for Handling Stolen Coincheck XEM
BTC 1,700 In Limbo As Fraudster Won't Give The Password To Prosecutors
Teaching True Story: Trader Robbed of Nearly USD Half Million in Bitcoin
This Is How Confiscated Bitcoin, Ethereum, And Monero Sold By The Taxman
This Multibillion Bitcoin Dump By US Gov Could Be a Drop in the Bucket
Originally Posted on: https://cryptonews.com/news/cybercriminal-bitcoin-billionaire-jokerstash-retires-9214.htm
By: Linas Kmieliauskas