If you're looking for someone to blame for disruptive ethereum (ETH) price corrections, you may be mistaken to look in the direction of miners, per the findings of a new report.
Researchers behind a new Coin Metrics study of Ethereum network miner activity have concluded that there was little evidence to collate miner activity with market corrections.
Although the study's author, Senior R&D Analyst Karim Helmy, wrote that "miner holdings have also generally grown over time as a percentage of the [Ethereum] network's total supply," and conceded that "because they're natural sellers of the asset they're securing, miners are frequently blamed for market volatility," he added that "correlation analysis appears to support the lack of a substantial relationship between changes in miner selling and market volatility."
The author explained that the role of miners in price volatility is as minimal in ETH as is believed to be in bitcoin (BTC) prices. Last month, the same analyst explained that "on-exchange sell pressure" provided by BTC miners was likely "lower" than 5.5% of cumulative exchange inflow.
In the new report, Helmy, wrote,
"In Ethereum, as in Bitcoin, these accusations are baseless, since miners typically account for a small single-digit percentage of exchange inflows. While a significant amount of miner selling occurs over-the-counter (OTC) and therefore does not immediately reach exchanges, changes in miner activity are not nearly large enough to warrant concern."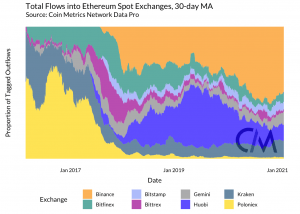 The author concluded that "mining is generally very opaque," and claimed that this was "arguably even more true for ethereum than bitcoin."
At the time of writing (17:49 UTC), ETH trades at USD 1,852 and is up by 2% in a day and 24% in a week. It rallied by 822% in a year.
____
Learn more:
– Ethereum's Buterin Says Tether Is Bitcoin's 'Ticking Time Bomb Demon'
– Miners Returning to S Korea, Where Crypto Is 'Essential' for 20-30s
– China's Inner Mongolia Might Push Bitcoin Miners Towards Greener Energy
– Bitcoin Mining Becomes A Side Venture For Chinese Non-Crypto Firms
– Bitcoin Mining in 2021: Growth, Consolidation, Renewables, and Regulation
Originally Posted on: https://cryptonews.com/news/ethereum-miners-don-t-cause-price-volatility-says-analyst-9496.htm
By: Tim Alper