From record warmth to record cold for the energy markets
Three months ago I mentioned to my newsletter clients of Weather Wealth about a volatile winter and using natural gas (BOIL) call and put options to capture volatility, As it turns out, December was the warmest on record for the U.S. sending natural gas prices plummeting. Now winter has finally arrived. This extreme cold, not only this week but deeper into January, is what helped natural gas prices explode this last week.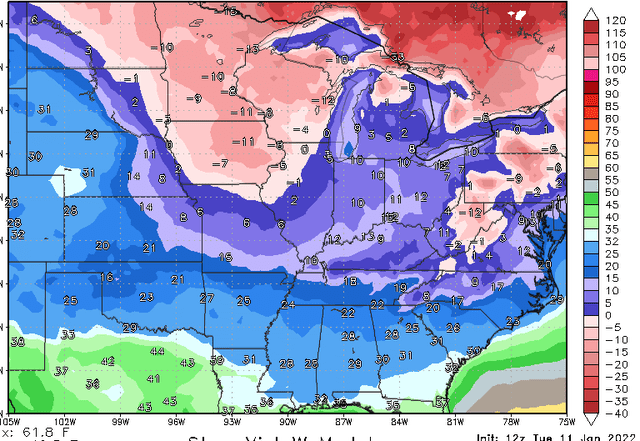 How fickle and volatile has the natural gas market and U.S. weather been this winter? Well, from a record warm December and prices collapse 40% last month to the coldest day ever on record at Mt. Washington, NH.
This blog I wrote more than a month ago discusses how something called the MJO index was also partly responsible for the record warm December. It also talks more about the potential for colder weather that is indeed happening now.
The Arctic Oscillation, EPO Index and La Nina
It is rare to get consistent major winter cold without stratospheric warming, but there have been some exceptions. One exception was the weak La Nina winter of January-February 2014.
Stratospheric warming at about 10-20 miles up can force a Polar Vortex south.
The first map shows cooling (blue) about 15 miles up in the stratosphere. When there is cooling that far up, it is usually hard to get a negative AO index and southern moving polar vortex for more than a week or two. Hence, normally we would expect a change towards a warm February after another two weeks of cold weather.
However, notice the 2nd map below (December 2013). There was stratospheric cooling (not warming) in this case and a very cold January and February. While this is not written in stone, if we have a cold February, then natural gas prices will go over $5.00 again. A severe cold mid-winter for more than a month or so occurred during the winter of 2013-2014 even with stratospheric cooling (blue area 15 miles up in the stratosphere). Again, this is highly unusual when you see cooling aloft like this.
But my in house computer program back in November was looking at the potential of a 2013-2014 winter analog. Notice how cold weather throughout January 2014 that continued well into February. The stars represent teleconnections such as the Eastern Pacific Oscillation Index (a block over Alaska and west of the Arctic circle) and La Nina that will be driving what we call the AO/NAO index negative, perhaps into February.
This is what is exciting natural gas traders as the AO/NAO index go negative due to a warm block to the north of Alaska (-EPO index)
The weather pattern shown above has not only affected the natural gas (UNG) market but heating oil (HO) spreads as well. The prices of heating oil have soared vs gasoline the last 10 days due to bitter eastern cold weather and snow causing issues for driving.
Conclusion
A cold mid-winter should continue to support heating oil prices and natural gas. Any little change in the forecast will send prices collapsing again and something we at bestweatherinc.com alert clients to often well before other weather forecast firms. Using natural gas and heating oil spreads and options are the best way to invest in this market due to volatility.
If the 2014 analog comes to fruition, other commodities like wheat (WEAT) could rally by spring. This analog does suggest a change in the weather pattern from drought to improved rainfall for Argentina grain areas and one reason I alerted clients late last week and on Monday to take big profits long soybeans (SOYB) for now.
Originally Posted on: https://seekingalpha.com/article/4479451-record-warmth-to-record-cold-energy-market?source=feed_tag_commodities
By: