The GALA price has declined by 4% in the past 24 hours, with its fall to $0.01322310 marking a 7.5% decline in the last seven days.
GALA's noticeable drop today comes as the market as a whole declines by only 1%, suggesting that the altcoin is currently facing stronger headwinds than most other cryptocurrencies at the moment.
Indeed, with its co-founders locked in an acrimonious legal battle, it's no surprise that it has depreciated by 32% in the past month, as well as by 20% since the beginning of the year (whereas most major tokens have risen since January).
But given that GALA itself remains fundamentally in the same position as it was before the commencement of legal proceedings, it's highly arguable that it could recover strongly from here on out.
GALA Price Prediction as GALA Attracts More Volume Than Dogecoin, Solana and Litecoin – Will GALA 10x From Here?
What's concerning about GALA at the moment is that its trading volume has risen at a time when it has very weak indicators, implying that most of the extra volume will be coming to sell the beleaguered altcoin.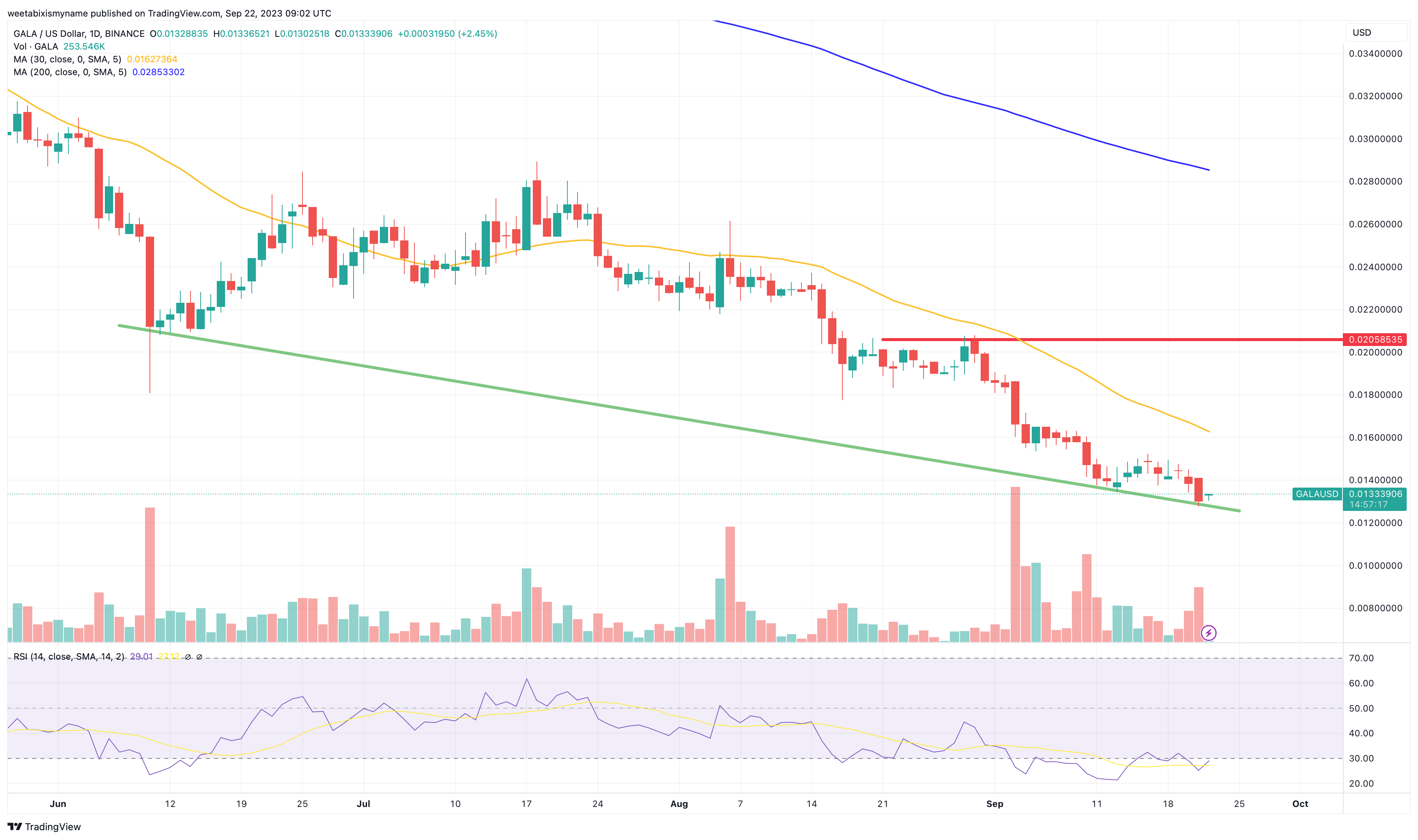 For instance, the coin's relative strength index (purple) has just dropped below 30, yet it had been close to – or already below – 30 since the beginning of September, while it had been below 40 for much of August.
This suggests a coin struggling with serious problems, as does GALA's 30-day moving average (yellow), which has been massively below its 200-day average (blue) for several months now.
Also indicative of serious issues is GALA's medium-term support level (green), which has been declining consistently since June.
Taken together, such weakness signals an asset that may be facing a long-term period of decline.
If so, this will be because of the aforementioned legal confrontation between Gala Games' two co-founders, Eric Schiermeyer and Wright Thurston.
While Gala Games itself has repeatedly affirmed that the founders' dispute does not affect the day-to-day running of Gala's platforms, it seems that the market begs to differ, at least judging by GALA's continuously declining price.
And given that there's still no timeline as to when the legal tussle may eventually be resolved (cf. the Ripple-SEC case which dragged on for nearly three years and still isn't entirely concluded), GALA may continue to suffer for a while longer yet.
This would suggest that the altcoin may fall to $0.010 or lower before stabilizing, with some commentators suggesting it may fall close to zero.
That said, Gala remains a relatively active and healthy network (with claims of 1.3 million active monthly users), with the blockchain-based gaming platform acquiring mobile game developer Ember Entertainment at the start of this year.
Based on such factors, it remains possible that GALA will recover strongly in the not-too distant future, especially when it has been so heavily oversold.
New High-Return Altcoins
Any recovery, however, will depend on the emergence of a clear exit from the current legal issues between Gala's two co-founders, meaning that GALA may remain depressed for some time.
In view of this, many traders may prefer to look at alternative altcoins, with presale tokens providing one major source this year of above-average gains, particularly when they list for the first time.
One of the most interesting new tokens in the market is Bitcoin BSC (BTCBSC), a BNB Chain-based cryptocurrency that has raised $4.2 million since beginning its presale at the start of the month.
Bitcoin BSC's main draw is that it provides a stakeable version of Bitcoin, with the coin having the same hard cap of 21 million tokens, meaning that it should become deflationary in the long run.
In another nod to the original Bitcoin, BTCBSC will be available during its presale at a price of $0.99, so that investors who missed out on BTC the first time around will have a chance to compensate themselves for the lost opportunity.
The sale will offer 6.125 million Bitcoin BSC, with the remaining quantity being released gradually over time, as rewards to stakers.
Such tokenomics mean that Bitcoin BSC will be a relatively decentralized token, with new investors able to buy a slice of it early by going to the official Bitcoin BSC website and connecting their software wallets.
BNB Smart Chain DEX will be the first trading platform to list the token once its presale ends, but the inevitable addition of other listings will ensure that the coin rises well beyond its sale price soon enough.
Visit Bitcoin BSC Now
Disclaimer: Crypto is a high-risk asset class. This article is provided for informational purposes and does not constitute investment advice. You could lose all of your capital.
https://platform.twitter.com/widgets.js

Originally Posted on: https://cryptonews.com/news/gala-price-prediction-as-gala-attracts-more-volume-than-dogecoin-solana-litecoin-will-gala-10x-from-here.htm
By: