The text below is an advertorial article that was not written by Cryptonews.com journalists.
How can you buy bitcoin if you're only using cash?
With MyBTC.ca, it's much easier than you think.
Funding your account with Canadian dollars at a local Canada Post branch is one of the most convenient ways to exchange your CAD. Doing so ensures that your money is transferred quickly, transparently, and securely.
But how does it all work?
Long story short, if you want to buy bitcoin with cash, all it takes is a simple, five-step process.
First and foremost, you have to have a registered and verified account with MyBTC.ca. If you do not have one yet, registration and identity verification takes only a few minutes. Besides, you can verify your identity offline at your local Canada Post branch, too. Here is a quick tutorial on how you can do it.
On MyBTC.ca, select the "Cash or Debit" option to login or create your account profile. Mind that the minimum deposit amount using cash at Canada Post office is CAD 50, while max limit is up to CAD 2,500.
MyBTC.ca will generate you a PDF document with a unique QR code. Download the PDF document with the code and put it on your mobile device or print it on a sheet of paper to bring it to your local Canada Post office.
Present your QR code for the clerk at the post office. Be aware to switch up the brightness on your phone to make it easier to scan. If the clerk is having difficulties with the operation, you can ask them to contact their colleagues or supervisor for help as this product is available at all Canada Post locations nationwide.
Complete the transaction using your preferred payment method, be it Cash or Interac Debit card.
That's it! The funds will be credited to your MyBTC.ca account within several minutes.
MyBTC.ca makes it easy to buy bitcoin from a reliable broker in a secure and convenient manner. Asides from cash purchase, the platform also supports the following payment methods:
Interac E-Transfer
Bank wire
Cash deposit at Canada Post
Flexepin voucher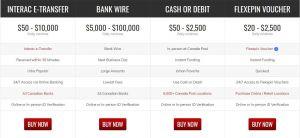 Mind that each method comes with its own fees, minimum deposit amounts, and limits.
Be aware that using MyBTC.ca requires you to verify your identity in order to adhere to Canadian Know Your Customer (KYC) and anti-money laundering (AML) regulations. Hence, all your digital money transfers should come from bank accounts and payment services registered under your own credentials.
As you can see, MyBTC.ca offers a quick and convenient way to buy bitcoin with cash in Canada. The exchange transfers bitcoin directly to your private wallet, so you will always be in charge of your private keys.
If you do not have a private bitcoin wallet, some of the popular options include Electrum, Guarda, or hardware wallets by Ledger or Trezor (for storing amounts above CAD 1000 and more).
If you're unsure about which Bitcoin wallet suits you best, you can also make use of the Bitcoin.org wallet wizard.
Visit MyBTC.ca to buy bitcoin with cash today!
Originally Posted on: https://cryptonews.com/news/how-to-use-cash-at-canada-post-to-fund-mybtc-ca-account-9358.htm
By: Sponsored