The race to buy Twitter impresario Jack Dorsey's first-ever tweet, from way back in 2006 – enshrined in non-fungible token (NFT) form – is gathering speed, with Tron chief Justin Sun making two bids for the token.
Dorsey, a notable bitcoin (BTC) bull, put the tweet up for sale on Friday last week.
The Tron boss, who has had a torrid 2021 thus far, claimed he had made a USD 2 million bid for the token.
However, official data from the bidding platform in question shows that Sina Estavi, the CEO of the Bridge Oracle platform – built on the Tron network – has since outbid Sun, with an offer of USD 2.5 million.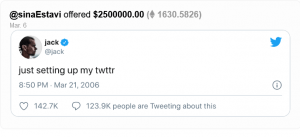 Estavi has also bid USD 121,000 for an NFT of a 2019 tweet by the CEO of Binance, Changpeng "CZ" Zhao, on the same platform. The token sold just days ago for USD 6,600 worth of ethereum (ETH) and reads: "Slap yourself if you sold BTC under USD 10,000."
Elsewhere, NFT fever shows no sign of subsiding, with a buyer snapping up an original Banksy art piece that was sensationally burned by its original buyer for USD 380,000 worth of ETH, per data from the OpenSea platform. The art world was shocked as the buyer, a blockchain firm named Injective Protocol, filmed the destruction of the physical original of Banksy's Morons (White) from 2006, and minted an NFT.
Per CBS News, the firm had paid some USD 95,000 for the work and says it will donate the proceeds of the sale to a coronavirus pandemic-fighting charity.
____
Learn more:
– Consider These Legal Questions Before Spending Millions on NFTs
– NFT Overtakes Litecoin, Bitcoin Cash, and XRP on Google
– Grimes and Paris Hilton Go Full NFT – But Some Warn of Trouble Ahead
– Defeated Donald Trump-themed NFT Sells for USD 6.6 Million
– Check These 4 Make-Your-Own-NFT Platforms
– NFTs Gaining Traction Around the World as Key Milestone Is Met
– Non-Fungible 2021: Prepare Your NFTs For DeFi, Staking, and Sharing
– 'Traditional' Art vs. Crypto Art: How to Value It
– NFT: Can Burning A Banksy Make It More Valuable?
https://platform.twitter.com/widgets.js

Originally Posted on: https://cryptonews.com/news/race-to-buy-nft-of-jack-dorsey-s-first-tweet-picks-up-pace-9460.htm
By: Tim Alper