What a week! (Well, another one.) PayPal will launch a service that would allow its customers to pay with BTC, ETH, LTC, and BCH, Visa partnered with Crypto.com to settle transactions in USDC on Ethereum, Goldman Sachs might offer its first investment vehicles for BTC and other unspecified digital assets in Q2, and Tesla started contributing fixes to open-source software built on the Bitcoin network. While more than USD 600m in crypto trading positions was liquidated in one hour, Kraken CEO said BTC will be worth 1 Bugatti by the end of 2022. Tether's independent accountant's report claimed the company's assets exceed its consolidated liabilities as of February 28, new Ukrainian finance minister said that crypto is "promising", and the politician charged with putting together Russia's crypto regulation legislation called the forthcoming digital ruble a "higher form of money".
Meanwhile, Ripple agreed to acquire 40% in Tranglo, and then it picked a fight with Bitcoin advocates, while LBRY was hit with a USD 11m legal challenge from the SEC, and a judge handed the convicted crypto tax evader a 3-year suspended jail sentence and a fine of around USD 163,000. In the meantime, the Oakland Athletics became the first team in Major League Baseball to sell tickets for crypto as a full-season six-person suite was picked up by Voyager Digital. In the NFT world, Justin Sun announced JUST NFT Fund for NFTs with more than USD 1m price tag. And Saturday Night Live attempted to explain "what the hell is an NFT?" A BTC investor who claimed he lost over BTC 17 to scammers has hit out at Apple for hosting a fake app on its store.
Enjoy this carefully selected collection of non-NFT jokes.
__________
Hey, Crypto Twitter! What's up?
__
This is how the month begun:
__
Keep the silly, useless holidays in mind when opening positions.
__
Hodlcophagus.
__
Now included with every purchase.
__
Aah, so easily fixable!
__
Here's another chart for your reference. It's for BTC Virgos.
__
'Waaait a minute!'
__
Inhalation.
__
Them Twitter celebs are NFTs?
__
NFT's going mainstream.
__
Wait for it… Also, who already turned this into an NFT?
__
DOGE never leaves the crypto discussions.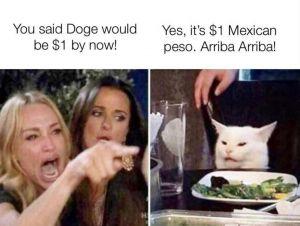 __
Your price forecast…
__
There's no Ethereum discussion without mentioning high fees, ETH 2.0, and L2s, with a heavy emphasis on rollups.
__
That's one speedy bitcoin.
__
Let's check up on some altcoin holders.
__
From Paris with love.
__
This is your crypto weekend song.
__
And lastly, your chronicle on differentiation between cryptograph and bequest capital committers.
https://platform.twitter.com/widgets.js

Originally Posted on: https://cryptonews.com/exclusives/paypal-crypto-goldman-sachs-vehicle-btc-bugatti-and-20-crypt-9767.htm
By: Sead Fadilpašić