Disclaimer: The text below is a press release that was not written by Cryptonews.com.
Mute.io, Previously NIX Platform, is a ZK-Rollup Ecosystem. Mute.io is launching a revolutionary, cutting-edge DEX that offers trading that is not only faster and cheaper but also privacy-centric. Mute.io is aimed to capture the growing market share of current users of first-generation decentralized exchanges and swap platforms.
One major trend in the world of cryptocurrency is the rise of decentralized exchanges (DEXs). Over $41B has been locked into decentralized finance (DeFi) as of mid-February 2021. This means that over $41B have been locked into smart contracts in the DeFi ecosystem. To explain further, a complex string of code is used to hold a certain amount of cryptocurrency until some condition has been met. That figure is up over 4000% from the same time last year. DeFi is now considered relatively mainstream and has even received acknowledgment in the media from A-list financial influencers like Mark Cuban and others. So, while the Decentralized Exchange market continues to grow at a stunning rate, the entire industry is looking to create the next generation of products to carry it forward. One of those products is ZK-Rollups. ZK-Rollups are the latest development in Private Finance (PriFi), which improves upon the base-layer of Ethereum adding improved scaling and robust privacy benefits to users.
Introducing Mute Switch, Mute.io's Revolutionary ZK-Rollup DEX
Introducing Mute.io. Formerly NIX Platform, Mute.io is an entire ZK-Rollup ecosystem. Mute.io refreshed its branding to more accurately reflect its mission of making token ownership and exchange private and widely accessible. Utilizing a cutting-edge layer-2 sidechain running on top of the Ethereum blockchain, Mute Switch is a revolutionary ZK-Rollup DEX that enables trading that is both private and scalable, with a user-friendly interface. An intuitive UX is an integral part of the platform, as it is aiming to onboard a new generation of users who want a DEX that is both private and easy-to-use. This is what makes Mute Switch such an appealing swap service.
Holders of NIX, one of the native tokens of the former NIX Platform, can convert to the new MUTE ERC-20 token through a simple token swap process. MUTE has just launched on Uniswap with over $1million in volume in the first few hours of trading. The NIX to MUTE swap window remains open for the next 4 months, resulting in all unswapped tokens – including the development fund, being burned once the old chain is retired. The total supply will be reduced from 102M to an anticipated figure of 35M, with the deflationary tokenomics ensuring no more scheduled supply inflation.
Another native token of the same ecosystem – NBT, or the NIX Bridge Token, has also been updated as VOICE token. Holders of NBT do not need to do anything to convert their NBT tokens to VOICE tokens. The name of the token will update automatically. Voice tokens are used for governance of the ZK-rollup DAO. Voice token holders help to move the ecosystem forward through an innovative application called Voice Control.
The NIX Platform already has a well-established community that includes over 30,000 Twitter followers, and over 4,500 members in their Telegram chat. This rebranding to Mute.io is expected to drive those numbers up even more. Considering that by early February 20201, the NIX token had already reached a market cap just over $10 million, the sky's the limit for the growth potential of a next-generation ZK-Rollup DEX like Mute.io's Mute Switch. With UNI's early-February market cap of over $8 billion, and many other DEXs and Layer-2 scaling solutions with market caps in the hundreds of millions, Mute.io is strategically positioned to capture segments of both markets by improving upon the previous tech to create innovative products that serve both markets' demands.
Why Mute.io's ZK-Rollups DEX is Better
The Mute.io ecosystem offers an array of robust features demanded by Altcoin & DeFi traders for a next-generation DEX, including:
A solution that is privacy-focused and scalable
Zero gas fees unlike traditional DEXs
Quicker settlement times
No price hikes from front-running bots
A Non-inflationary ecosystem that includes token buybacks
Many of today's popular DEXs lack the privacy afforded by privacy coins. However, Mute.io is launching their privacy-focused DEX that is powered by a ZK-Rollup ecosystem. This makes Mute.io a pioneer in the world of PriFi. With Mute.io, get the best-in-class security with world-class privacy.
In addition, users want to get the benefits of a DEX without paying exorbitant fees. Though Uniswap provides a number of advantages over a centralized exchange, it can be very expensive to swap tokens on there. However, Mute.io is significantly less expensive to use, due in part to zero gas fees for transactions.
What Does ZK-Rollup Mean?
A ZK-Rollup is a type of off-chain scaling solution that helps blockchains process transactions more efficiently. One of the critical elements to understand about ZK-Rollups is the trustless way they validate the data contained in them. ZK-Rollups rely on ZK-SNARKS to function. ZK-SNARK stands for Zero-Knowledge Succinct Non-Interactive Argument of Knowledge, which is a type of cryptographic proof. This "zero-knowledge proof" approach is utilized in order to declare a block's data valid and then publicly record the validity of that block on the Ethereum blockchain. Zero-Knowledge proofs like ZK-SNARKS reduce the computing power and necessary storage for block validation by reducing the amount of data held in each transaction. "Zero-Knowledge" of all the data is needed.
It is called a ZK-Rollup because hundreds of token transfers are bundled, or "Rolled up", into a single transaction. Instead of relying on the traditional model of validators verifying all transactions, smart contracts parse and verify all of the token transfers into a single transaction. In a single transaction, ZK-Rollups are able to bundle hundreds of transfers. The smart contract verifies all of the transfers held in a single transaction upon deconstructing.
While the ZK-Rollups hold the smart contracts on the main chain, they perform the computation and store the data on a side chain. Each smart contract contains a specific cryptographic commitment of the larger piece of the sidechain state, a snapshot if you will. Layer-2 solutions like ZK-Rollups make data more granular and as a result, more malleable (and thus easier to access). This significantly speeds up the transaction processing on the Ethereum blockchain.
What is a Layer-2 Solution for Ethereum?
Layer-2 solutions is a collective term that relates to the next-generation solutions to improve the scalability of Ethereum. Essentially a Layer-2 solution is a code level that is built on top of, and running parallel to, the original Layer-1 blockchain. In the case of Ethereum, the Ethereum blockchain is Layer-1, and Layer-2 solutions are built on top of Ethereum to help it process transactions more effectively.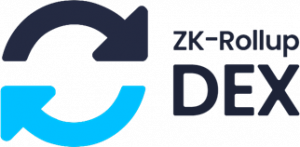 One of the advantages of Layer-2 solutions like ZK-Rollups is they significantly lower transaction fees. In addition, there is less data contained within each transaction, which increases throughput and scalability. This also means that Blocks are computed in a parallel computing model, which in turn encourages greater decentralization.
Tokenomics of the Mute.io Ecosystem
Mute.io is the name for a brand-new ZK-Rollup ecosystem. Mute.io utilises a dual-token setup, consisting of a gas-like token, called MUTE tokens, and a governance token, known as VOICE tokens. The two tokens work in tandem with each other. Ecosystem participants are incentivized to hold either one or both of these tokens in order to participate in decisions about the project's future.
Mute.io's ZK-Rollup DEX is appropriately called Mute Switch. A Decentralised Application, or dApp, called Voice Control, allows users to interact with and oversee governance of the Mute.io ecosystem. Voice Control is powered by the VOICE token.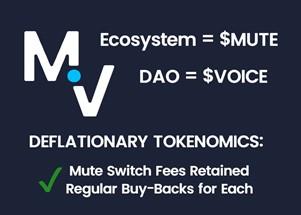 The Mute Switch DEX utilises very dynamic tokenomics that are rarely seen in the DEXs. Instead of a DEX's AMM liquidity providers getting paid in trading fees, all tokens generated from using the DEX are part of a "Buy-Back and Make" initiative. This creates constant buy pressure on both of the tokens of the Mute.io ecosystem. 70% of ecosystem fees generated are bought back in MUTE, and 30% of fees are bought back in VOICE. This helps to ensure that the captured value is both retained and recycled within the Mute.io ecosystem first before exiting the ecosystem. Several other initiatives that Mute.io has planned for the future include vaults, a smart treasury, and additional ZK-Rollup dApps, as well as interoperability with other smart-contract-supporting blockchain ecosystems such as Polkadot, Avalanche and Binance Smart Chain.
Conclusion
Mute.io, formally NIX Platform, offers a revolutionary new ZK-Rollup DEX called Mute Switch. Mute Switch improves upon the shortcoming of 1st-gen DeFi exchanges by offering a robust array of innovative features. Among these are best-in-class security, world-class privacy, and significantly lower transaction costs, in addition to being an efficient Layer-2 scaling solution. Mute.io will usher in the next generation of DEX's, uniting Ethereum users everywhere in this decentralised digital economy.
MUTE is now available on Uniswap and can be found on DEXTools here.
To discover more about Mute.io and Mute Switch, visit the website: https://mute.io
https://platform.twitter.com/widgets.js

Originally Posted on: https://cryptonews.com/news/prifi-zk-rollup-dex-to-launch-on-mute-io-s-dual-token-ecosys-9414.htm
By: Press release