Listings for NBA Top Shots have begun appearing on the major eBay marketplace, as holders of the blockchain-based collectibles look to profit from the surging interest in non-fungible tokens (NFTs).
One NBA Top Shot Premium Pack is currently on sale on eBay for USD 2,500, while dozens of other packs are being sold for anything from USD 5 to USD 1,800.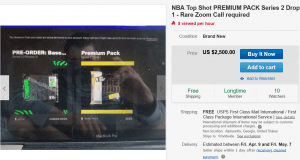 The explosion of interest in NBA Top Shot NFTs comes amid a wider explosion in NFTs, with an Arca report indicating yesterday that the sector has grown faster than any other area in crypto. However, more skeptical observers suggest that the market for NBA Top Shots is ripe for scams, while others argue that the NFT is the next ICO (initial coin offering), and will similarly tarnish crypto's reputation.
From USD 200 to USD 2,000
Built by Dapper Labs (also responsible for CryptoKitties), NBA Top Shots are NFTs based on the Flow blockchain. They're officially licensed by the National Basketball Association, and if you buy one, you'll be getting an NFT which also comes with video highlights of NBA matches and shots, as well as player and game stats.
Officially, packs start from USD 9 and rise to USD 230 in the case of 2020 NBA Finals packs (as well as other special packs). Unfortunately for would-be purchasers, they've all sold out, which has led to the appearance of an unofficial marketplace on eBay, where you will now have to pay greatly inflated prices.
For example, Rising Stars packs retail on the NBA Top Shot website for USD 200, but now you'll need to stump up anything from USD 1,300 to USD 1,990 on eBay. That's basically a 900% rate of return.
This jump in price is in keeping with the similarly impressive jump in interest NFTs are currently receiving.
NBA Top Shot has reaped over USD 260 million in sales over the past 30 days, per DappRadar data, and is the biggest NFT marketplace in terms of users and volumes.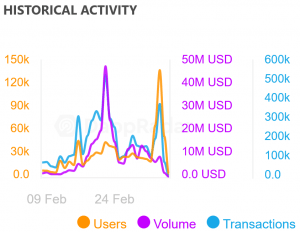 Similarly, Jeff Dorman, the Chief Investment Officer of US-based investment management firm Arca, noted that NFT-related tokens have enjoyed greater week-over-week price changes than any other type of cryptoasset. They've also enjoyed greater year-to-date increases.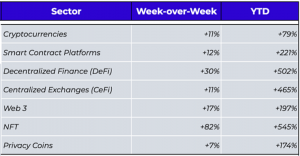 Such growth follows in the wake of widening public interest in NFTs, with Kings of Leon releasing NFTs for their latest album, and with celebs such as Lindsay Lohan and Grimes also getting involved.
Women are the architects of society. This #NFT is super special as it is a concept from the most iconic work of my… https://t.co/LdKDzlsAFu
Any problems? Risks?
The rapid growth in NFTs isn't without its risks. With regards to the second-hand marketplace for NBA Top Shot packs, commentators have already pointed out that you can't actually send unopened packs via NBA Top Shot itself.
@jrob1564 This is asking to get scammed. There's currently no way to send unopened packs on topshot. So after you p… https://t.co/zvo0gg8h6r
More generally, Dorman stressed in his report that "prices are crazy and unsustainable" for many of the NFTs currently doing the rounds, implying that a correction is sooner or later due and that some people (i.e. latecomers) are likely to lose money.
Others have also compared NFTs to ICOs, suggesting that they may end up attracting negative regulatory attention towards the crypto industry.
I see a lot of parallels between 2021's NFTs with 2017's ICOs and 2013's altcoins:
Regardless, the seemingly contagious interest in NFTs still might last for some time, if the eBay market for NBA Top Shot packs is anything to go by.
___
Learn more:
– Justin Sun, Sina Estavi & Co Race to Buy NFT of Jack Dorsey's First Tweet
– Consider These Legal Questions Before Spending Millions on NFTs
– NFT Overtakes Litecoin, Bitcoin Cash, and XRP on Google
– Grimes and Paris Hilton Go Full NFT – But Some Warn of Trouble Ahead
– Check These 4 Make-Your-Own-NFT Platforms
– Non-Fungible 2021: Prepare Your NFTs For DeFi, Staking, and Sharing
– 'Traditional' Art vs. Crypto Art: How to Value It
– NFT: Can Burning A Banksy Make It More Valuable?
https://platform.twitter.com/widgets.js

Originally Posted on: https://cryptonews.com/news/second-hand-nft-market-for-nba-top-shot-packs-appears-on-eba-9485.htm
By: Simon Chandler