ConsenSys-owned major Ethereum (ETH) wallet and Web 3.0 browser MetaMask saw its swap feature growing substantially, while non-fungible tokens (NFTs) are also gaining traction.
Their token swap feature, which enables users to compare and swap tokens directly within MetaMask, was announced last October, which their Product Lead Jacob Cantele described as "a sort of meta aggregator that aggregates not only all of the DEXes [decentralized exchanges], but also all of the DEX aggregators."
Per the Dune Analytics dashboard created by MetaMask, MataMask Swaps recorded 138,136 unique accounts, and cumulative volume of nearly USD 1.09bn at the time of writing (13:40 UTC Wednesday). Its daily volume on March 9 was nearly USD 17.88m, while the highest volume was USD 22.78m recorded on February 21, 2021.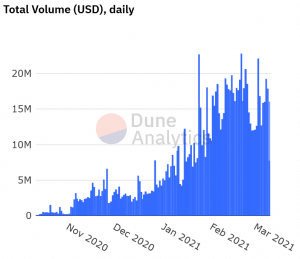 __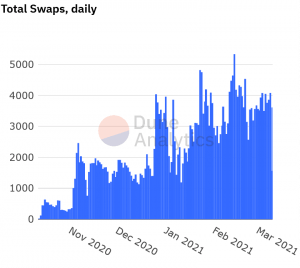 Also in October last year, MataMask had announced that it broke 1m monthly active users, and Cantele said that they've "grown substantially since that time", and that they are "potentially about to make a similar announcement very soon."
As the swap feature is not available on mobile yet, the team is currently working on bringing it there. According to Cantele, they've seen "significant adoption" in developing countries on the mobile app, particularly in Nigeria, India, the Philippines, and Indonesia, among others.
At the moment, the most popular MetaMask use cases are:
swapping tokens, both in the Swaps product, and directly on DEXes such as Uniswap;
decentralized finance (DeFi) services, such as lending, taking out loans, and using cryptoassets as collateral;
gaming – a rapidly growing category which is also related to collectibles and the rising non-fungible tokens (NFTs).
"In fact, I suspect that the art space may have flipped the gaming space as our number three in the February data," Cantele said, adding that he wouldn't be surprised "if the most popular things in MetaMask in a year are not even on the list I just told you."
Journey to layer 2
With sky-high Ethereum fees, many of the products are now also being brought to layer 2 (L2) – layer 1 (L1) being the Ethereum blockchain, and L2 any protocol built on top of Ethereum.
"There's a lot of effort to bring swaps to layer 2," said Cantele, so that people will be able to make swaps with "very small" gas fees. He argued that "I think we're getting pretty close to when a number of DEXes are going to be available on layer 2s, especially Uniswap, but also others."
Creating an internet and financial system that empowers individuals and gives them more consensual interactions is only possible if gas has reasonable prices, according to Cantele. Per him, L2 technologies, such as the ones Ethereum co-founder Vitalik Buterin praised as well, including Optimistic Rollups and ZK-Rollups, are "going to really be able to provide the same level of security and decentralization that the L1 can provide, […] while also empowering many more people to be able to participate in these systems by driving transaction costs down," said Cantele.
Many Web3 application developers have been reluctant to implement L2 scaling technologies "because the friction for the user is too high," said the Product Lead. While most other wallets don't have a way to add an L2 or to switch to a sidechain, in MetaMask it has been possible.
Also, the team announced that they started rolling out their Custom Networks API last week, which allows developers to recommend a variety of chains to their users, including layer 2 networks. This "significantly reduces the friction around users using layer 2 solutions and sidechains," while also reducing gas costs, according to Cantele.
Besides Swaps and the new API, the team is exploring simultaneous network support, meaning that instead of the dapp having to prompt users to switch to a different network, a feature would enable the dapp to be connected to multiple networks at once.
This way, "the user no longer needs to think about which network they're on, [and] that's going to also be a huge advance in the [user experience]," Cantele said.
____
Learn more:
– Decentralized Exchanges Set To Accelerate in 2021
– 'Scaling Coming to Ethereum in March', Optimism Announces Mainnet Launch
– Trader's Lesson: Why You Shouldn't Keep Large Amounts of Crypto in MetaMask
– Crypto Exchanges to Spend 2021 Focusing on DeFi, UX, and New Services
Originally Posted on: https://cryptonews.com/exclusives/swaps-and-nfts-accelerate-metamask-s-growth-9497.htm
By: Sead Fadilpašić