As investors remain bullish on the economic outlook, a record-high share of US investors engages in risks they describe as "higher-than-normal". As many as 25% of the respondents name "long tech", followed by "long bitcoin" and "short US dollar" as the three most crowded high-risk trades, according to a recent survey by US banking giant Bank of America (BoFA).
The poll, which was conducted between February 5 and 11 and covered 225 fund managers with USD 645bn in assets under management, shows a net 91% of the respondents expect a stronger economy, as reported by Reuters.
Compared with the previous month, bitcoin reported a drop in popularity, as BoFA's fund manager survey for January showed that long bitcoin was the most crowded trade of the month. Last month, the cryptocurrency overtook a long position on tech companies for the first time since 2017, according to the survey.
This said, in his comment on the February survey's findings, Jeroen Blokland, Head of Dutch asset management firm Robeco, noted that only about 5% of global fund managers claimed that bitcoin would outperform this year, preceded by three other asset classes which spurred more optimistic forecasts. Emerging markets topped the list, at close to 60% of responses, followed by oil, and the S&P 500 index, respectively. Bitcoin preceded gold, three-month US Treasury bills, and 30-year US Treasury bonds.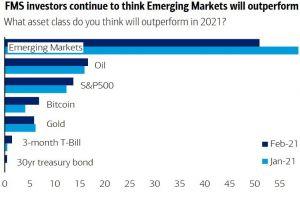 On a more positive note, between January 21 and February 21, the share of investors who staked their bets on bitcoin outperforming this year noticeably increased, as indicated by data from the survey.
In either case, data compiled by Yahoo Finance and hosted by the bitcoin-keen software firm MicroStategy shows that BTC outperformed all major currencies, both gold and silver, while among the S&P 500 companies only e-commerce firm Etsy ant electric car maker Tesla performed better in the past year.
BofA's February data also shows that only 13% of the respondents were concerned about a US equity market bubble. US equity markets are in a late-stage bull market, according to about 53% of the surveyed managers, while 27% claim we are witnessing its early stages.
Meanwhile, today, BTC surpassed the USD 50,000 level for the first time, before correcting lower again. At the time of writing (14:31 UTC), BTC trades at USD 49,118 and is up by 3% in a day and 6% in a week. It rallied by 35.5% in a month and 396% in a year.
____
Learn more:
– A Wave of Giants Rushing to Invest in Bitcoin Could Derail the Stock Market
– Tesla's Bitcoin Buy Comes As Earlier Large Investors Retreat
– Analysts Deconstruct Bitcoin vs. Ethereum Debate As Alts Outperform
– 1,400+ Firms Flock To Learn About Bitcoin, But 'There Is No Playbook'
– Bitcoin Snowball Is Expected To Hit More Institutions in 2021
– Bridgewater's Ray Dalio Sends Stronger Bitcoin Signal
– Not Only Bitcoin Price Is Changing During This Bull Run
https://platform.twitter.com/widgets.js

Originally Posted on: https://cryptonews.com/news/tech-overtakes-bitcoin-in-high-risk-trade-ranking-again-9248.htm
By: Jarosław Adamowski