The text below is an advertorial article that was not written by Cryptonews.com journalists.
Even though blockchain technology is becoming more and more popular worldwide, a true understanding of its complexity is not yet within everybody's reach. Still misunderstood and often denigrated in the mainstream media, deciphering the technology requires time, personal investment and knowledge of how to adapt to the perpetual evolution that marks the environment.
How will Ternoa democratize the blockchain?
By launching its project to build time capsules containing memories and digital data, Ternoa seeks to democratize the blockchain by addressing the general public. In fact, the main tool of this project will be based on a mobile application accessible to everyone, via the App Store or the Play Store, allowing anyone to buy and schedule the delivery of capsules without needing to know that the blockchain is involved. Through this app, it will be possible to pay with a fiat currency of one's choice, although the transaction will be automatically converted into CAPS (the name of Ternoa's cryptocurrency) without haranguing the buyer with this term. Everyday words and terms will be used in the Ternoa application to provide a simple and smooth user experience. This is the first step in a discreet democratization of blockchain technology, which can, of course, be discovered in more detail at www.ternoa.com. This represents a positive evolution that will be seen in the next few years in relation to various blockchain projects, and will make it possible to address those who are currently uninitiated in the ways of this particular universe.
Clément Téqui, the CFO of Ternoa, has said in a recent live Ternoa Instagram broadcast:
"Ternoa wants to democratize and institutionalize the blockchain."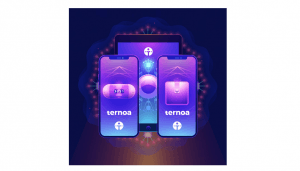 Ternoa revolutionizes the rapidly-growing field of NFTs
Let's come back to this story of time capsules: while it may be difficult to imagine them at first glance, Ternoa is riding the first wave of popularity around NFTs (= digital artistic creations) by proposing its own designs, while opening up the possibility for artists to submit their own designs on Ternoa's NFT Marketplace, which will be available at the end of March 2021. Ac-cording to some blockchain specialists, 2021 will be the year of these cryptographic tokens, and we understand why. Each of these NFTs is unique, and in the case of the Ternoa project, they take the form of exclusive digital capsules, comparable to works of art becoming collector's items. At the time of purchase on the application, it will be possible to access an internal marketplace with different styles of capsules, which can increase in value over time, such as a painting, sculpture or drawing. In this sense, Ternoa is swimming with the tide, for we know that these digital objects have become a veritable Eldorado for collectors: several examples come to mind, such as the sale of video sequences of basketball games on Top Shot, including one featuring LeBron James, which was bought for $208,000, or the record sale of an NFT representing Donald Trump, which reached $6.5 million. We might also think of the music industry, where for example Linkin Park's Mike Shinoda has launched an NFT containing an actual song!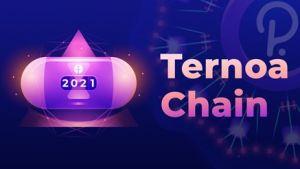 Thanks to the power of its time capsules, Ternoa brings a whole new dimension to NFTs. Be-yond being mere collector's items, the Ternoa NFTs will also be a means for data transmission. You will be able to choose the design of your capsule then fill it with your memories and private data before programming it and then send it to the recipient of your choice. This is a revolution that is starting to interest NFT enthusiasts greatly, as can be seen on Ternoa's Twitter account.
The more time that passes, the more important blockchain technology will become in every-day life thanks to its transparency in terms of services, tools and even purchases. The Ternoa Project gives a good sense of what this democratization looks like and how it will affect more and more people, whether or not they are aware of what is going on behind the curtain.
You can now join Ternoa's Telegram group, which, between its English and French channels, has over 5000 active members. You can join here: Ternoa Telegram
https://platform.twitter.com/widgets.js

Originally Posted on: https://cryptonews.com/news/ternoa-democratizes-the-blockchain-and-revolutionizes-nfts-9442.htm
By: Sponsored