Verge (XVG), a cryptocurrency known for being used as a payment method by a major adult website, Pornhub, just suffered its third major attack. However, investors used the sell-off to increase their XVG holdings.
At the time of writing (05:30 UTC), XVG, ranked 108th by market capitalization, trades at USD 0.024 and is up more than 1% in a day, after it recovered some of the losses following the attack news. The price dropped from USD 0.0263 to USD 0.0221 before recovering. XVG is up by 41% in a week and 86% in a month.
XVG price chart: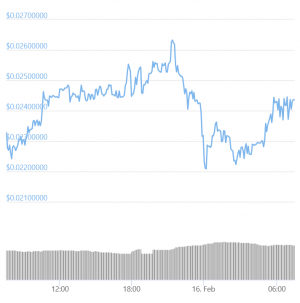 Six hours ago, Verge confirmed that "malicious elements have tried to take over our blockchain" "late last night."
"In 13 hours, it will be business as usual," they added, claiming that "your funds are SAFU."
The attack resulted in "a massive 560k+ blocks [reorganization], meaning that the past 200 days worth of XVG transaction history just vanished, per analysts at Coin Metrics.
"What sounds scary is actually pretty easy to counter – nodes will reject the attacker's chain and restore the previous one. But it's another data point showing why GPU mineable coins are inherently insecure," a popular crypto researcher Hasu said, adding that this is "the deepest ever reorganization in any [proof-of-work] blockchain."
In 2018, Verge experienced two 51% attacks.
__
Reactions:
In light of the recent events, if you're running a full Verge-qt node, please update to our latest release, 6.0.3.… https://t.co/RjHmRIJAi7
@nic__carter The attack on @vergecurrency was UNSUCCESSFUL It was also a great test to prove the strength of the… https://t.co/4sUawPCUsk
___
Learn more: Crypto Security in 2021: More Threats Against DeFi and Individual Users
https://platform.twitter.com/widgets.js

Originally Posted on: https://cryptonews.com/news/verge-fans-buy-the-dip-as-blockchain-suffers-third-major-att-9239.htm
By: Linas Kmieliauskas