European natural gas prices continued to rise Wednesday, as Russian gas imports to the continent continued to fall. Prices for July delivery were up ~7.0% in early trading Wednesday, to the highest level seen since shortly following Russia's invasion of Ukraine. Morgan Stanley's lead commodities analyst Martijn Rats increased the bank's European natural gas price forecast by ~30% through spring. And Shell's (SHEL) CEO said Wednesday he sees a "problematic winter" in Europe.
In Q1 Europe imported ~30% of the world's LNG, according to Morgan Stanley, a more than 50% increase from 2021 and double pre-pandemic levels. LNG imports accelerated in Q2, as lockdowns in China allowed for reselling of contracted cargoes from Chinese NOCs to European utilities. The result, European natural gas inventories rose rapidly, calming markets and pressuring gas prices lower: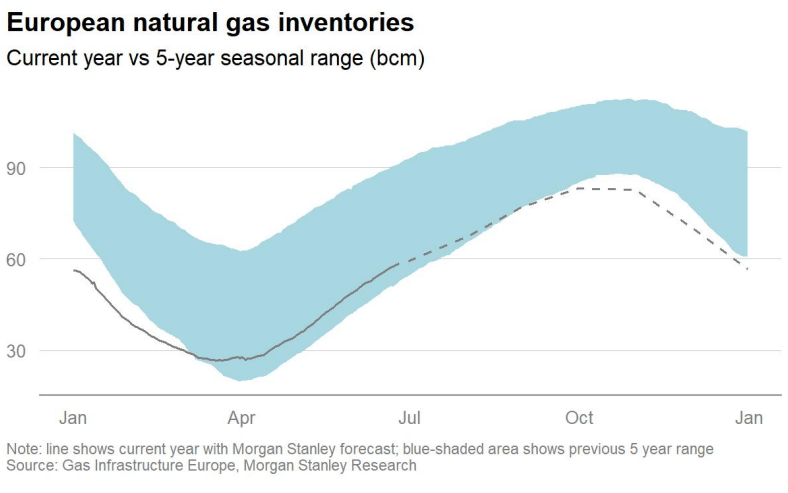 What's been less discussed in recent months, is the relationship between absolute EU inventory levels and the absolute volume of Russian imports. Were European gas inventories to return to 100% of storage capacity, ~100bcm, they would still only account for ~7 months of pre-pandemic Russian pipeline imports. With Russian pipeline import volumes down more than 75% from pre-pandemic levels, there's little chance of Europe reaching full storage ahead of winter: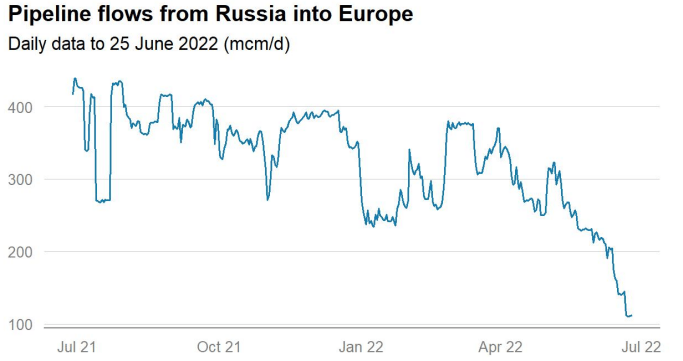 The inventory and import dynamics suggest Shell's (SHEL) comment could be taken as a euphemism. Morgan Stanley increased it's price forecast for European gas to $41/mmbtu through Q1 2023; ~500% above pre-pandemic averages. Germany is warning of gas rationing, while EU Energy Commissioner Kadri Simson said Monday there may not be enough supply worldwide to replace Russian flows. Were the Kremlin to turn off exports completely, or even sustain currently reduced levels, Europe would either run out of natural gas (UNG) this winter or materially ration gas away from industrial sectors.
For investors, domestic natural gas producers like NRT (NRT), Vermillion (VET), Shell (SHEL) and Exxon (XOM) stand to benefit from higher prices. Thus far, Europe has been hesitant to actually increase domestic supply — assuming the crisis spurs policy action, Shell (SHEL) and Exxon (XOM) could benefit from increased production at Groningen. Groningen is the largest natural gas field in Europe, but a field policy makers have slowly shut down for nearly a decade. A shift in energy security policy could see increased production and drilling throughout the continent, providing a tailwind to volume for producers, while increasing security and capping prices for consumers.
Perhaps more importantly, investors in non-EU natural resource companies would benefit from European natural gas rationing. CF Industries (CF) has already announced plans to shut a UK plant, and many eastern European fertilizer producers are likely to do the same if gas rationing ensues. A tailwind for US producers like CVR (UAN), Mosaic (MOS) and others. Alcoa (AA) shut an aluminum smelter in Spain earlier this year, and others are likely to do the same if Russia continues to pressure gas supply. The world's largest integrated chemicals complex sits in Germany and is owned by BASF (OTCQX:BASFY); the complex is completely dependent on cheap Russian energy supplies, and reduced production from the complex would benefit non-EU competitors like Lyondell (LYB) and Westlake (WLK).
For energy (XLE) and natural resource (XME) investors alike, reduced European supply tailwinds need to be balanced against reduced demand headwinds. The US economy shrunk in Q1, and the Atlanta fed "now cast" of economic growth estimates Q2 GDP will grow by only 0.3%. Suggesting even the US is on the edge of a technical recession. Assuming the Kremlin continues to weaponize EU energy supplies, Europe is likely to fall into a recession. Cyclical stocks have generally performed poorly in recessions. However, unlike most cycles, this cycle was not preceded by a glut of capacity expansion. Suggesting that natural resource prices could remain high, even as the global economy slows.
Originally Posted on: https://seekingalpha.com/news/3852875-winter-is-coming-and-europe-may-be-out-of-gas-when-it-arrives?source=feed_tag_commodities
By: